Printing Process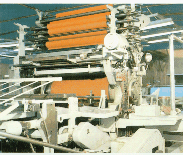 1. Printing Process
Before a cap is formed, it undergoes an intricate printing process involving the designing, printing platemaking, varnishing, printing of a particular design and brand. It is achieved by the platemaking facilities, metal offset printing press, coater and dry oven. This process is necessary for beautiful appearance and more importantly for prevention of rust.
Manufacturing Process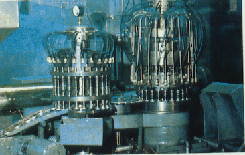 2. Manufacturing Process
2.1 Crown Cap Manufacturing Process
Crown caps are formed in the press machine. The inside lining is made up of plastisol, P.E. resin by the lining machine. The finished caps are conveyed and counted automatically by the electronic cap counter, packed in boxes and then put in storage ready for delivery.

2.2 P.P. Cap Manufacturing Process
The Process begins with the forming of caps of diferent sizes. Then the caps are perforated and the bridge formed in the rolling machine. Some specially ordered caps are embossed ans shaved. After rolling, they are ready to be formed with the P.E. disc and Plastisol foamed in a drying oven. The finished caps have a same process with crown caps.